C3 Wellness Spa's mission is to help clients achieve rejuvenation through massages, acupuncture, and holistic therapies, among many other services – delivering complete, comprehensive care (the "three C's" C3 Wellness Spa is named for). Our team is dedicated to providing a personal and unique spa experience for each client. 
Founder and CEO Crystal Bethea is a veteran, licensed massage therapist, and cosmetologist. Inspired by her family of fellow veterans, she helps her community and many veterans with physical ailments and mental health while encouraging people to practice healthy lifestyles. 
Marcus Bethea is CFO of C3 Wellness Spa. He is an expert in billing, practice scaling, and franchising for small medical practices. Coming from a family of veterans, Marcus is an advocate for veteran healthcare and supports C3 Wellness Spas veteran services. 
We are proud to have created a system that combines holistic wellness, traditional spa services, and med-spa – watching them work together in harmony to create a foundation for a successful practice. It's been a privilege to help so many people achieve their physical and mental wellness goals.
We're so proud of our services that we want to continue spreading our mission across the country. In addition to two Orlando-area locations, C3 Wellness Spa has plans for national expansion through franchising.
Hours
Monday - Friday | 8AM - 8PM
Saturday | 9AM - 6PM
Sunday | CLOSED
Hours
Monday - Friday | 8AM - 8PM
Saturday | 9AM - 6PM
Sunday | CLOSED
Give the gift of relaxation and rejuvenation.
Give the gift of glow with a C3 Wellness Spa gift card. Treat your friends and family to their favorite services, from a rejuvenating chemical peel to the gift of healthier skin with an IV infusion. Our gift cards are the perfect way to show someone how much they mean to you.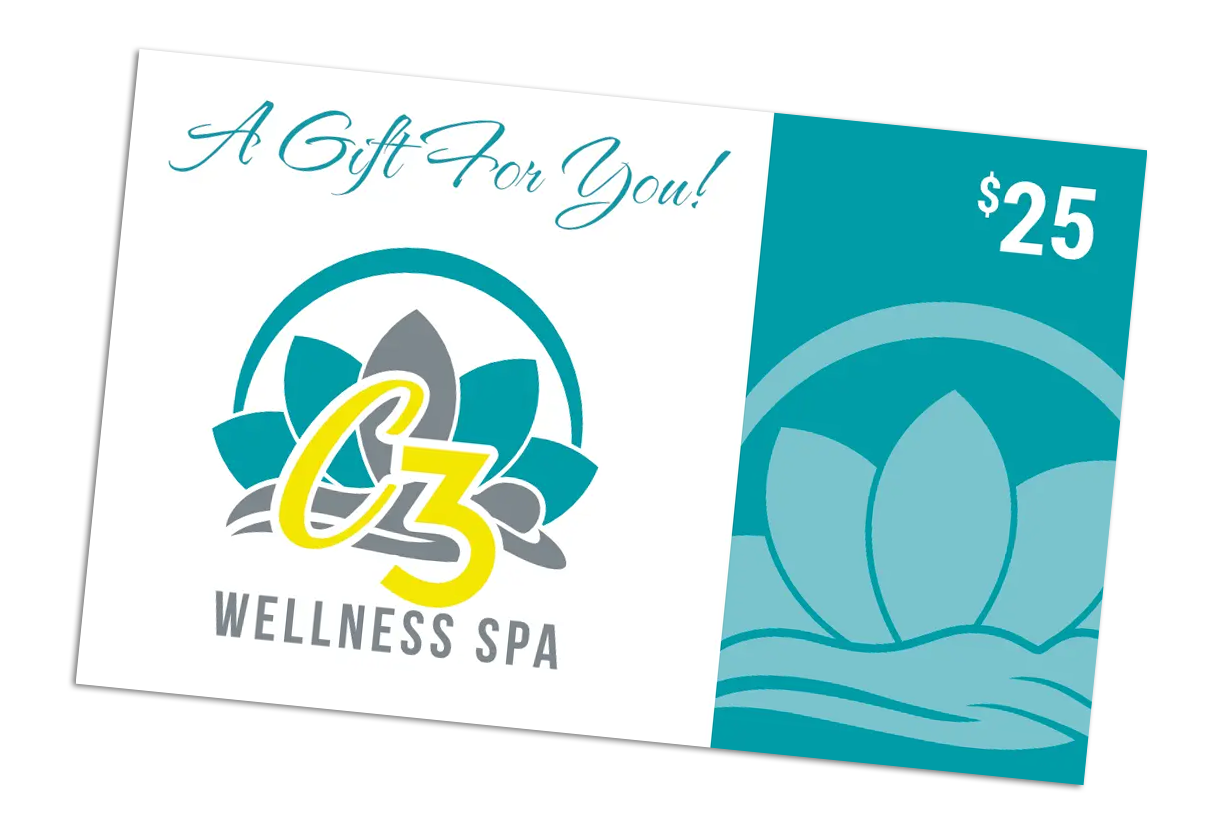 We accept major medical insurance and VA benefits for massage therapy, physical therapy, and acupuncture patients.
Set aside time to pamper yourself every month with one of our VIP memberships that include treatments and discounts.
Select any of our services to use as you like, or if you're not running low on "me time," share them with a friend or spouse.